Welcome to the Scientific Meeting Center of the MPI-DS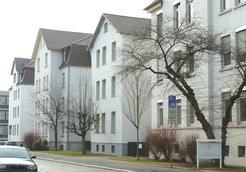 Here you can find information about the possibilities of accommodation in our Scientific Meeting Center (German: Wissenschaftliches Begegnungszentrum, WBZ) as well as pictures of the individual rooms and apartments.
What can be booked?
In the WBZ there are 22 single rooms, 6 double rooms and 9 apartments available. The stay in our houses is possible up to 4 months. In the houses there are also communication rooms with appropriate equipment (blackboards, conference equipment) for scientific exchange.
Who can take advantage of this offer?
Employees and guests of the Max Planck Institutes can use our facilities. Both overnight stays in the rooms and scientific work on a daily basis without an overnight stay are possible. The basis for this is a scientific cooperation with the Max Planck Society.
How are the rooms equipped?
All rooms and apartments are fully equipped: Bathroom with shower and hairdryer, desk, bed linen and towels, WLAN, SAT-TV, telephone and radio alarm clock are available. In the houses there are also washing machines and dryers in the basement room. On request, we are happy to provide extra beds and children's travel beds for an additional charge. The rooms are professionally cleaned twice a week. The cleaning of the apartments, on the other hand, is the responsibility of the guests during their entire stay (cleaning materials for this are standard in all apartments).
Where can I apply/book?
If you are interested in a booking, please contact the respective contact persons in the secretariats of the MPI-DS, who will then get in touch with the administration of the WBZ. If you do not have a contact person, please contact the WBZ administration directly. The contact details can be found on this website.
What are the prices?
The prices depend on the size of the accommodation and the length of your stay. You will receive a confirmation of reservation for the planned period of stay as well as information about the costs from the administration of the WBZ in advance. Your stay will be completely taken care of by the WBZ administration, from the request to the invoice.
Self-catering or half/full board?
In our premises of the WBZ there are only possibilities for self-catering. For the rooms there is a commonly used kitchen on each floor. All kitchens are fully equipped so that food can be stored in a cool place and prepared. Furthermore, there are numerous restaurants and bakeries in the neighborhood.
Enjoy your stay, we wish you a great time!!!
Picture gallery of the Scientific Meeting Center (see also "further images")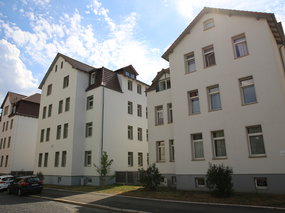 Houses 18 (left), 16 and 14 (right)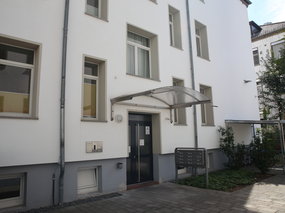 Entrance house 18
Hallway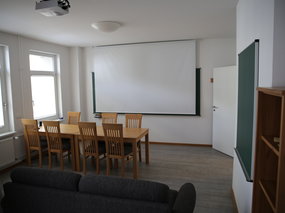 Seminar room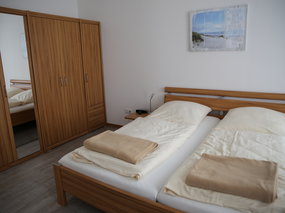 Apartment
Apartment
Apartment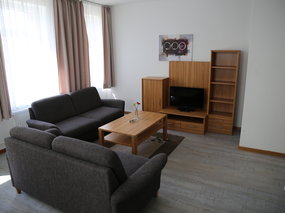 Apartment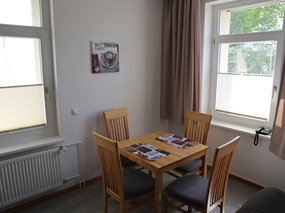 Apartment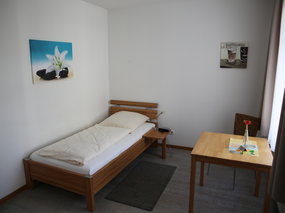 Single room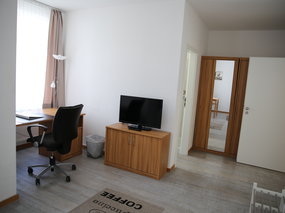 Single room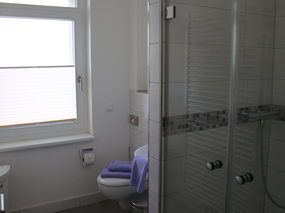 Single room
Commonly used kitchen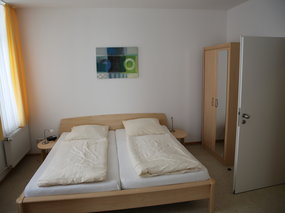 Double room
Double room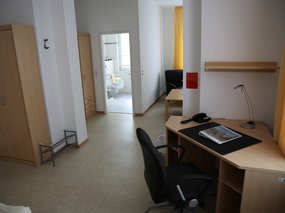 Double room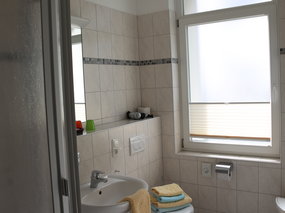 Double room