Scientific Meeting Center of the MPIDS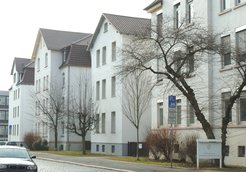 The scientific meeting center is provided for employees and guests scientifically collaborating with the Max Planck Society during their stay in Göttingen. For scientific exchange, there are communication rooms with equipment (blackboards, technical equipment) available. Additionally, we offer 22 single rooms, 6 double rooms and 9 flats for stays up to 4 months.
Please contact the department secretary or the management office, if you wish to make a reservation. Prices vary depending on the size of the flat and the length of your stay. On behalf of the management office, you will receive a confirmation of the planned period informing also about the costs.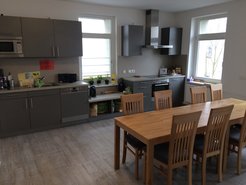 All rooms and apartments are fully furnished with bathrooms with shower and hairdryer, desk, towels and bed-linen. Internet, SAT-TV, phone and clock radio are installed. The houses are equipped with washing machines and dryers. On request we provide additional cots and children's beds.
The rooms are cleaned twice a week; the apartments are cleaned by the residents themselves.
The stays do not include breakfast. However, for the rooms common kitchens are available on each floor. A bakery is located nearby (Café Hemer in the Böttingerstraße 21).