Third party funded projects
Researchers of the Max Planck institute for Dynamics and Self-Organization are involved in many third party funded projects. You will find our projects supported by the main funding agencies on their webpages: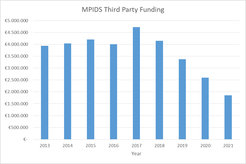 In addition to further funding agencies, several industrial partners have funded co-operations with our institute and can therefore benefit from the knowledge and experience of our researchers.
The acquired third party funds supplement the budget of our institute to realize outstanding projects.