Bundled strategy for infection control to keep schools open
 
Interdisciplinary team of experts creates air hygiene action plan to keep schools open and recommends a combination of synergistic measures including masks, ventilation, spacing, testing and vaccination.
According to the current state of knowledge, maintaining operation in schools can only be achieved by a bundled strategy with a multitude of measures - this is the recommendation of an interdisciplinary expert team of medical scientists, aerosol researchers, physicists, air hygienists, ventilation and building experts. A total of 14 researchers from 12 institutions in Germany and Austria wrote a joint scientific statement in order to provide political decision-makers, local authorities, school boards and parents, among others, with a decision-making aid on necessary and sensible measures to keep schools open.
The statement summarizes the most important protective measures in a compact form and has already been sent to the Conference of Education Ministers and various federal ministries. The researchers place the emphasis of the recommendations on measures for air hygiene. The statement was coordinated by Heinz-Joern Moriske of the Federal Environment Agency, involving also Eberhard Bodenschatz of the Max Planck Institute for Dynamics and Self-Organization and Ulrich Pöschl of the Max Planck Institute for Chemistry.
To significantly reduce infection risks in classrooms, the researchers emphasize the following points, among others:
Wearing mouth-to-nose coverings cannot be replaced by any technical ventilation measure. If possible, masks should be worn by everyone during the entire lesson - including teachers, as they speak frequently and loudly, which accounts for a particularly large proportion of the emission of droplets and respiratory aerosols.
Regular window ventilation ensures effective removal of respiratory air aerosols, which can be verified by CO2 measurements. On average over the lesson, a CO2 level of 1000 ppm should not be exceeded, which can be achieved, for example, by intermittent ventilation when the CO2 level exceeds approximately 1200 ppm until it falls below at least approximately 800 ppm CO2. The less the CO2 concentration in the classroom lies above the outside air value (around 400-450 ppm), the lower are the respiratory aerosol exposure and associated infection risks.
Exhaust fans are long-standing state of the art for fresh air supply and effective respiratory air aerosol reduction. They reduce indirect infection risk through effective removal of respiratory air aerosols and can also provide good indoor air quality and comfort beyond the pandemic. Exhaust fans can be retrofitted at short notice and with little effort.
Mobile air purifiers can also help to reduce aerosol concentrations, but they have the fundamental disadvantage that they do not lead to renewal of the indoor air. They should therefore only serve as a supportive additional measure to reduce the aerosol-borne risk of infection. The operation of mobile air purifiers does not replace the need for continued regular ventilation and mask use in the classroom. When possible, fresh air solutions should be preferred.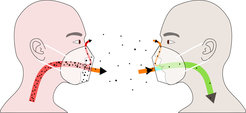 Direct infections (close transmission) occur when there is a close proximity to an infected person. The droplets and aerosol particles emitted when exhaling and speaking can be inhaled directly by the other person without the requirement to first fall to the floor or spread within the room. The larger droplets (0.1 mm and larger) normally fall to the floor at a short distance (approximalety 1.5 m), while the smaller aerosol particles can spread throughout the room as airborne particles and thus also lead to indirect infections (long-distance transmission).
Effective protection against direct and indirect infections is provided by wearing masks, with medical nasal protection (MNS) being the minimum standard and FFP2 masks being particularly effective. Masks must be worn correctly, completely covering the mouth and nose and fitting as tightly as possible. Other measures, such as ventilation, ventilation techniques, or mobile air purifiers, are not a substitute for wearing masks during the pandemic; they are meant to flank protection against indirect infections.
"Current studies show that wearing masks and regular testing can reduce infection risks the most." Prof. Dr. Eberhard Bodenschatz of the Max Planck Institute for Dynamics and Self-Organization in Göttingen emphasizes.
"Intensive ventilation supported by exhaust fans and CO2 sensors can bring about a further reduction in infection risks," explains Prof. Dr. Ulrich Pöschl from the Max Planck Institute for Chemistry in Mainz. "Only by combining masks, ventilation and testing can effective prevention succeed."
The recommended bundle strategy and its consistent implementation and control can significantly reduce infection risks in face-to-face classes at schools.
"The current inquiries to the Federal Environment Agency show that there is still a great need, both among those affected and among those with political responsibility, for reliable information on what really helps in the current pandemic situation and what should be observed in the individual protective measures. Only through a sensible bundling of measures can we continue to enable school operations at all," explains Dr.-Ing. Heinz-Jörn Moriske, Director and Professor at the Federal Environment Agency Dessau-Roßlau.