Teamwork for turbulence
European turbulence researches have founded the network EuHIT. It will make the best research facilities available to the community of European researchers from science and industry and will help to improve them.
European turbulence researchers are joining forces: The new network "European High-Performance Infrastructures in Turbulence" (EuHIT) supported by the European Commission aims to support the research field in the next years. For the first time in history, the leading infrastructures in turbulence research will open their gates to scientific and industrial researchers from the European research arena. To this end, 23 research institutions and two industrial partners from ten countries have come together and with the help of the European Union (EU) have created EuHIT. Thirteen experimental facilities – each of which is unique worldwide – constitute the cornerstones of this endeavor. Until 15. September 2013 researchers from the EU and associated countries can apply for time at one of the facilities. Further calls will follow periodically. In addition, EuHIT will develop the next generation measurement technology to be used in the facilities and other general fluid dynamics applications.
"In the past years, Europe has taken the lead in turbulence research", says EuHIT-coordinator Prof. Dr. Eberhard Bodenschatz, Managing Director of the Max Planck Institute for Dynamics and Self-Organization in Göttingen (Germany). This claim is not only supported by the significant output of scientific publications in this field, but also by Europe's unique experimental facilities. Göttingen, for example, is home of a wind tunnel measuring 18 meters in length and six meters in height called Göttingen Turbulence Facility 1. Within this setup, scientists can create turbulent flows under controllable laboratory conditions comparable to the most intense ones found on Earth, i.e.: inside of clouds or in volcanic eruptions. In Grenoble (France) the CORIOLIS Rotating Platform, a huge, rotating tank with a diameter of 13 meters, allows to study the influence of rotation on turbulence and at the Czech Cryogenic Turbulence Facility in Prague scientists can track movements within a turbulent flow of liquid helium with the help of tiny, frozen flakes of hydrogen. Further experimental facilities are located in Cottbus (Germany), Erlangen (Germany), Ilmenau (Germany), Genf (Switzerland), Bologna (Italy), Triest (Italy), Predappio (Italy), Villeneuve d'Ascq (France), and Twente (the Netherlands).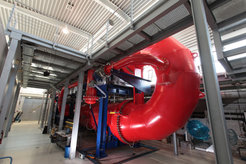 "Each of these infrastructures is unique", explains Bodenschatz. "All in all, Europe offers an amazing potential to unravel the fundamental properties of turbulence and to advance technological applications", he adds. Until now, however, a well-structured network joining all forces and opening national facilities to other European researchers from science and industry had been missing. In the next years, this gap will be closed by EuHIT. The consortium of 23 research institutions and two industrial partners from the Czech Republic, Denmark, France, Germany, Israel, Italy, the Netherlands, Poland, Romania and Switzerland have joined forces to allow, with the help of the EU, free access to these cutting edge facilities. For example, industrial and academic researchers from the EU and associated countries may apply for experimental time at one of the facilities. The partner institutions offer assistance in data analysis and measurement technology and make their data accessible to other researchers.
"In this way, by breaking national boundaries we provide infrastructures and know-how to all researchers in Europe", says Bodenschatz. In addition, EuHIT organizes joint research activities for the development of the next generation of measurement technology, which can only be tackled by close collaboration of multiple partners.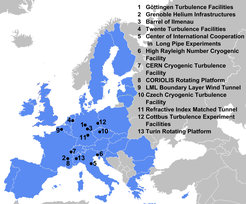 Turbulent flows are omnipresent in nature and technical applications and a better understanding is bitter needed. EuHIT will provide the framework to do this. The scientists hope not only to reveal its fundamental principles, but also to contribute to solving important economic and societal questions. This may help, for example, to enhance wind energy yield, predict air and water pollution, improve our understanding of the influence of clouds on climate change, and optimize processes relevant to the chemical industry.
The European Commission will support EuHIT in the next years with seven million Euros.
Deadline for the first call for applications is 15. September 2013. Researchers from Europe and associated countries may participate and submit an application detailing their project. Additional calls will follow periodically.